Table of Contents
About the Bioimaging Unit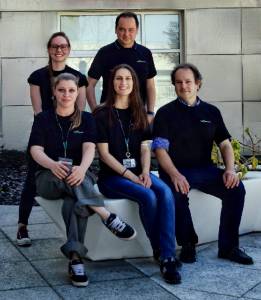 The Bioimaging Unit acts as a support structure to help and nurture research done with Light Microscopy. The people we work with have amazing questions to answer. But if used incorrectly, a microscope can give you wrong answers. At the Bioimaging Unit we focus on people and their questions. We provide iMM scientists and visitors with excellence in scientific know-how and expertise in light microscopy methods, in a personalized approach. We sit with researchers to teach them, train them, create software tools for them and help them make the most out of the microscope. We provide support in all steps of research done with Light Microscopy. We help researchers get to that moment when something is seen for the first time. To see Science done right, see it happening. That's unique.

→ Meet the

We are a node of the Portuguese Platform of Bioimaging, which integrates the European research infrastructure as a Biological Node of Euro-BioImaging ERIC. We are also a Zeiss labs@location Partner and one of the COLife Bioimaging Core Facilities.
How to Acknowledge us
If you used our services, please acknowledge us in publications or other formal presentations. This is one of our key performance indicators and very important for future funding. You are welcome to use the following examples:
Materials and Methods: "Microscopy experiments were performed at the Bioimaging Unit of Instituto de Medicina Molecular João Lobo Antunes."
Acknowledgements: "We would like to thank the Bioimaging Unit of Instituto de Medicina Molecular João Lobo Antunes for their technical support. We also acknowledge the funding PPBI-POCI-01-0145-FEDER-022122."
Thank you!
Services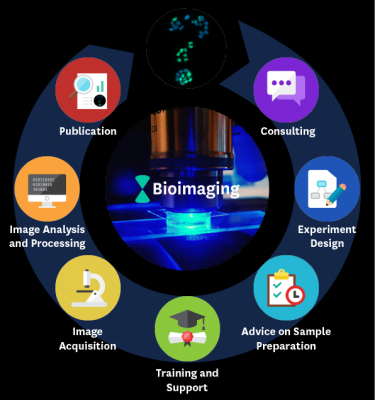 The Bioimaging Unit is equipped with 3 inverted laser point-scanning confocal microscopes prepared for live cell imaging (Zeiss LSM 980, Zeiss LSM 880 and Zeiss LSM 710), 1 lightsheet microscope prepared for water and clearing media immersion imaging (Zeiss Lightsheet Z.1), 2 inverted spinning disk confocal microscopes with motorized stages, piezo and EM-CCDs also prepared for live cell imaging (3i Marianas SDC and Zeiss Cell Observer SD), 1 multi-photon microscope (Leica SP8 MP), 1 automated widefield microscope for live cell imaging (Zeiss Celldiscoverer 7), 3 fully motorized inverted widefield microscopes with cooled CCD cameras (Zeiss Cell Observer with a large cage incubator, Nikon Eclipse Ti with stage top incubation, and Zeiss Axiovert 200M), 1 upright widefield fluorescence microscope (Leica DM5000B), 1 fluorescence stereo microscope with a CCD camera (Zeiss Axio Zoom.V16) and other imaging resources such as a brightfield microscope (Leica DM2500) and a bioluminescence / fluorescence imaging system (IVIS Lumina). There is also a high-spec workstation for image analysis and processing available for researchers to work on their imaging data (Colossus). The Bioimaging systems are available on the online booking system for trained researchers 7 days a week and 24 hours per day. User training in each particular system is mandatory, even for researchers with previous microscopy experience.
→ More info on our

The Bioimaging Unit provides support in all steps of research done with Light Microscopy at the iMM, from the first ideas in Project Planning to the final Data Publication, with a strong focus in Microscope Training and Support and Image Analysis and Processing.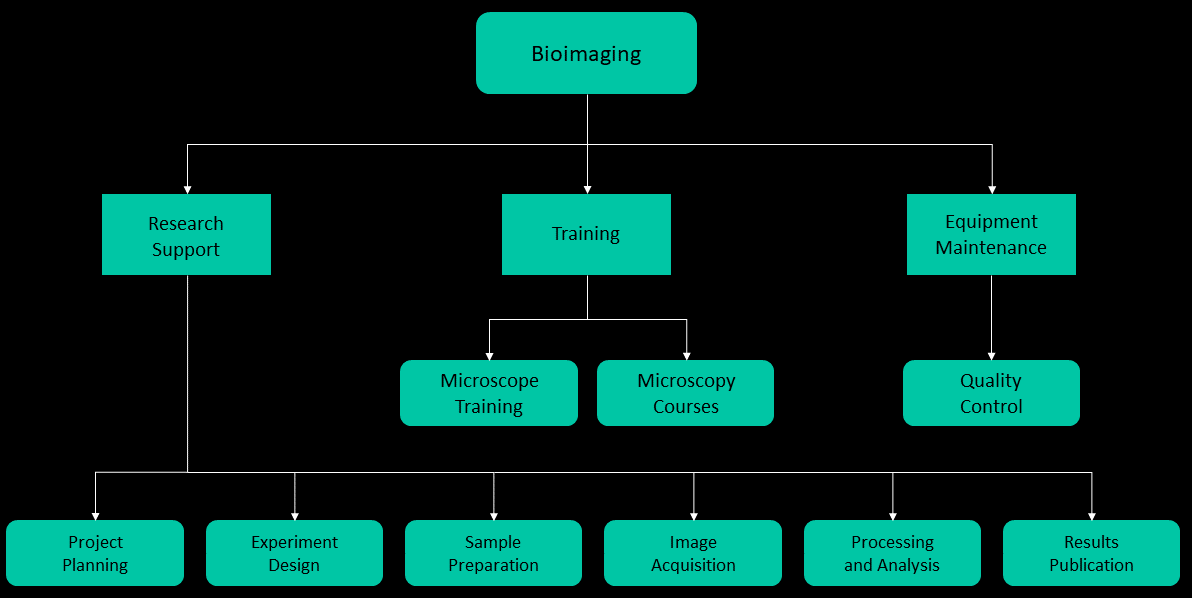 Prices
We charge according to booked time in each microscopy system. Online booking is mandatory for each usage session and cancellations are allowed if they are made prior to reserved time. Users that do not show up at their booked sessions will be charged in full.
→ Check our

How to use the service
All new users must contact the Bioimaging Unit for training in each specific system. This also applies to researchers with previous experience in microscopy. Only trained users are allowed to book usage sessions on a particular microscope.
→ How to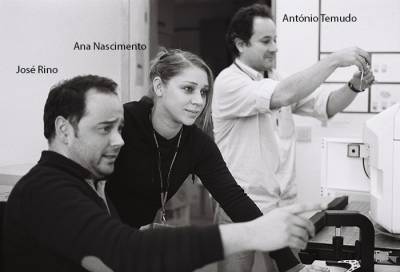 Bioimaging Unit
imm-bioimaging@medicina.ulisboa.pt
Instituto de Medicina Molecular, room P3-A-5
Faculdade de Medicina de Lisboa
Av. Prof. Egas Moniz
1649-028 Lisboa






Photo: Bioimaging Unit in 2016 by Ana de Barros



Hours
9:00 - 13:00 and 14:00 - 17:30 for Training, Assistance and Consultations
24 hours, 7 days a week for Equipment Usage by authorized, trained users (see Usage Policies)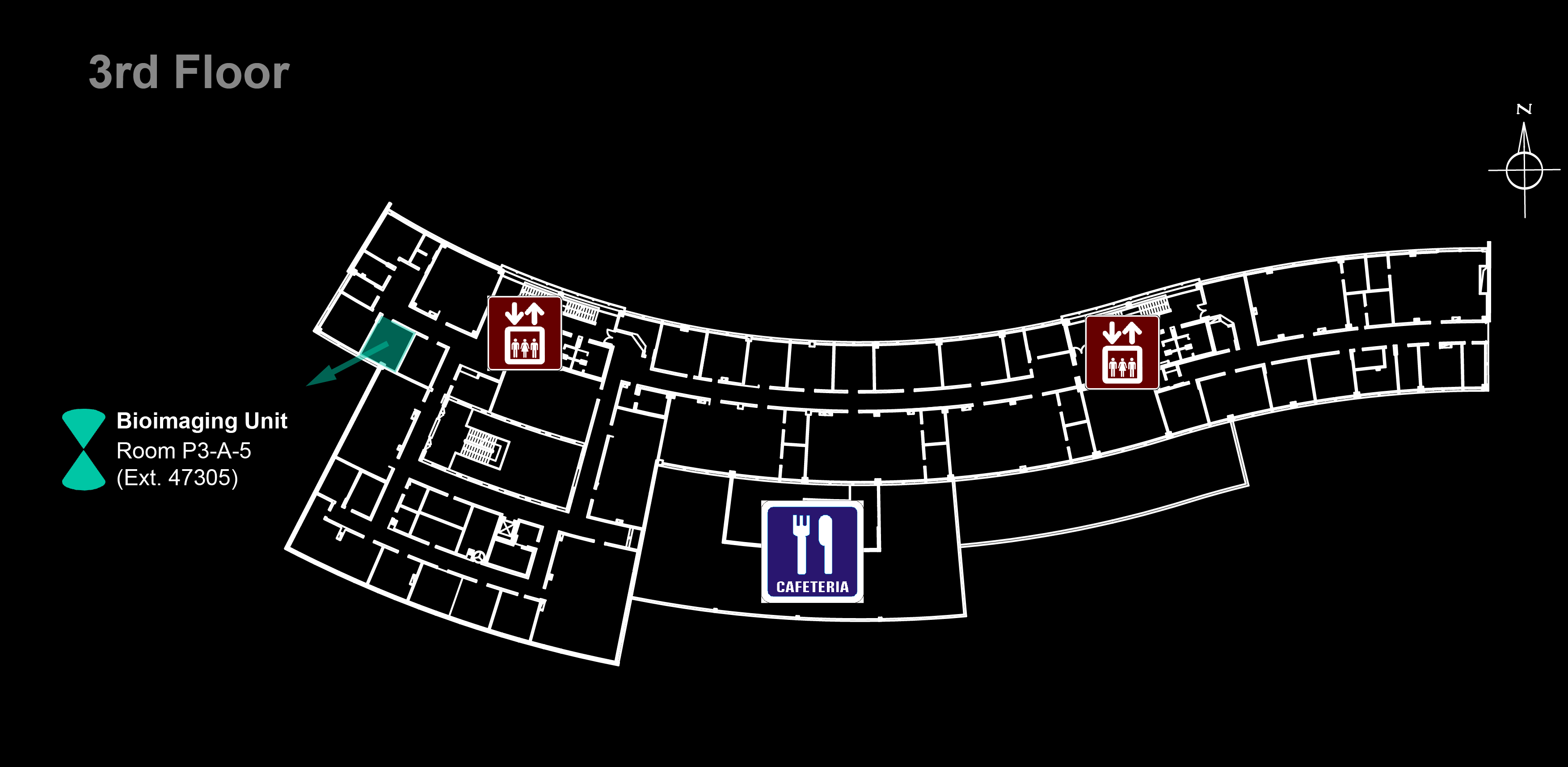 Internal phone extension: 47305
---