back
Outreach
Scientists at iMM work in areas important to human health, such as oncology, infectious diseases, neurodegenerative diseases, among many others and they are keen to understand the mechanisms that lead to these diseases, finding clues to better diagnosis and new treatments.
Since these themes are absolutely relevant to society it is of the outmost importance to make the research developed at iMM more perceptible and increase the involvement of people with science.
A structured program promoting a two-way communication between scientists and citizens is currently being developed and implemented at iMM.
Horizontes iMM: Uma pergunta a três
A scientist, a medical doctor and a patient are brought together around one same question. This is the motto for the new cycle of public talks that will be based on four discoveries made by iMM scientists. These discoveries may strongly impact the future of human health and we want the society to know it and discuss them. This cycle of talks will have in 2019 four sessions. The first session will be held on February 20 at 18h00, at the João Lobo Antunes Grand Auditorium.
Why does cancer escape us? is the first question that will be discussed by Fernando Rosas (former deputy of the Bloco de Esquerda, the patient), Luís Costa (the doctor) and Bruno Silva -Santos (the Scientist) and will be moderated by Graça Franco (journalist and Director of Radio Renascença). Between February and October (dates below) in addition to cancer, the public will be able to learn more and discuss neuromuscular diseases, Parkinson's disease and spinal cord injuries.
We are interested in contributing actively to the public debate on the direction and purpose of biomedical research in Portugal and to a scientific dissemination of quality. The guest panel of these sessions brings physicians, scientists, politicians, journalists, important personalities from civil society and anonymous citizens to iMM, thus promoting a closer relationship between Science and Society. This initiative is made in partnership with Fundação Belmiro de Azevedo.
Know more about Horizontes iMM: Uma pergunta a três.
For more informations: Horizontes iMM
---
Why does cancer escape us?
February 20, 2019
Participants: Fernando Rosas, Luís Costa and Bruno Silva-Santos
Moderated by: Graça Franco
---
Why do muscles fail to obey?
March 20, 2019
Participants: Pedro Souto, Mamede de Carvalho and Edgar Gomes
Moderated by: Graça Franco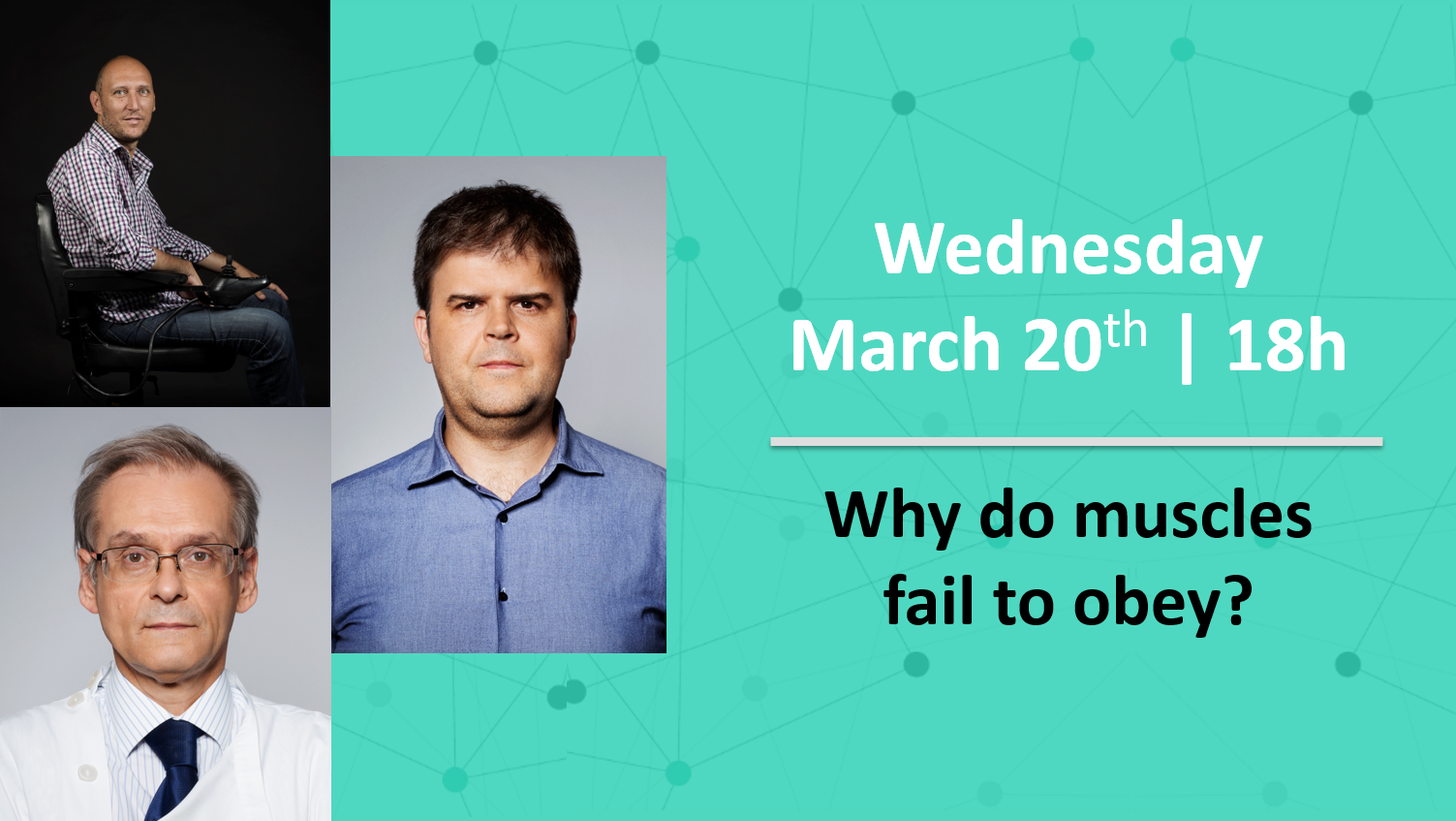 ---
Why does the brain stop communicating with the body?
June 19, 2019
Participants: Paulo Teixeira Pinto, Joaquim Ferreira and Luísa Lopes
Moderated by: António Barreto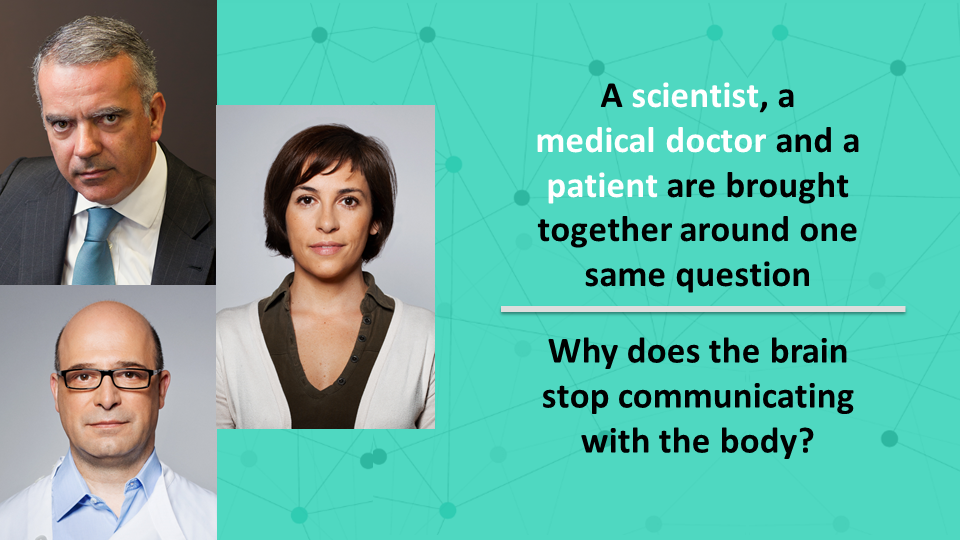 ---
Why doesn't the spinal cord regernerate?
October 16, 2019
Participants: Salvador Mendes de Almeida, António Francisco and Leonor Saúde
Moderated by: António Barreto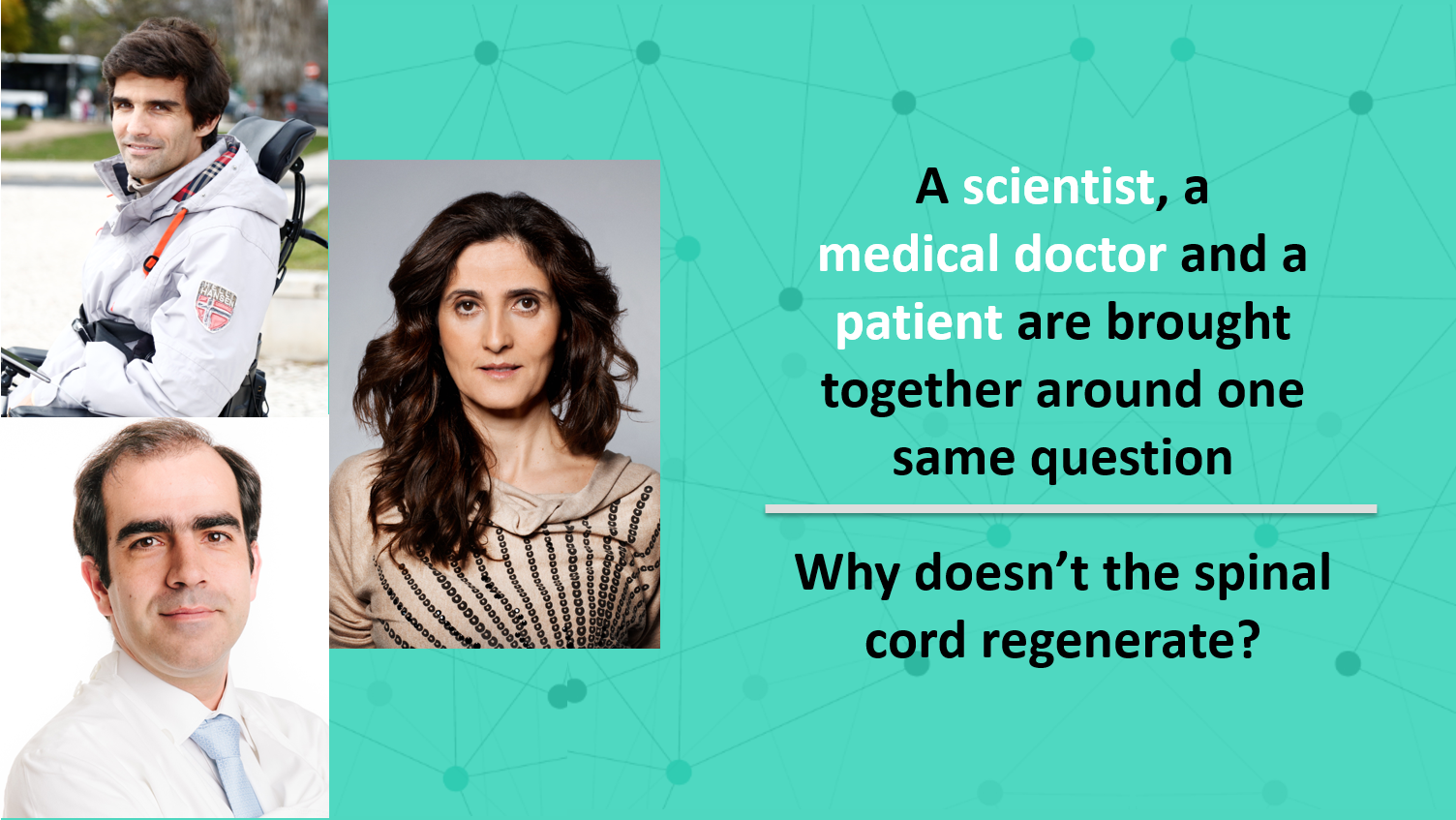 Science in the Streets
In 2018, it was developed a major public awareness campaign with the motto "There is no great question without a great answer", that focused on the continuous chasing of questions that scientists at iMM pursue. This campaign targeting the general public was divided in several actions disseminated in newspapers, national television, social media, and locally in the Lisbon area as a mean to create a proximity to the local, national and international community.
"Why is there still no vaccine against malaria?", "How does breast cancer appear?", "What does chocolate do to our brains?" were some of the questions included in the graphical artworks produced to illustrate the research outputs of the scientists and the ongoing international projects at iMM. The artworks were disseminated through the 49 digital advertising billboards present in the streets and metro stations of the city of Lisbon. During four weeks, the citizens and visitors of Lisbon were able to visualize and interact with these signs. Simultaneously, the videos and graphical outputs were disseminated through the institutional social media channels.
"Unleashing curiosity about the images of science and the questions we are working on were the starting point for bringing scientists closer to the common citizen. Each outdoor had a specific QR Code linking scientific images to short videos with our scientists", explains Maria M. Mota, Executive Director at iMM. Together with this, a multimedia spot hired on prime time of two Portuguese national TV channels reaching.
This campaign was also highlighted in the Portuguese media, including the magazines Briefing, Meios e Publicidade, the TV news programs Edição da Manhã SIC, Diário da Manhã TVI, and a radio show Prova Oral Antena 3, increasing the reach and impact of these actions.
Also, a Societal box was created. This box includes some of the graphical materials used for the campaign and has been distributed to representatives of different stakeholders (patients associations, industry, teachers and students, civil organizations, politicians). This combined approach optimised the resources available and increased the global benefits of the campaign, creating tools that promote the visibility of the research done at iMM.
It was the first time that a campaign of this kind was launched in Portugal, impacting the perception of the public on the work of scientists.