back
Master Training
iMM regularly hosts students to conduct their Master Thesis Projects within several of our Research Groups.
List of Master Projects for 2023/2024
---
---
---
---
---
---
---
---
---
---
---
---
---
---
---
---
Application to Master Projects
1. Application Process
Candidates should choose their preferred Project from the list indicated above.
Candidates should email potential iMM Master Project supervisors providing the following documents:
CV: including candidate´s contact info; info on completed/ongoing degrees and respective Graduate School and University (Faculdade/Universidade); quantitative info on academic performance up to date e.g. final average grade (or discriminated grades, if applicable); info on prior research training (if applicable); English fluency; etc.
Motivation Letter: statement explaining how the candidate´s prior academic path and future professional plans fit within the scope of the specific Master Project.
References: contact info (email and phone) of two References. References may be Professors who know the candidate well as a student, or Supervisors of prior research training, etc
Please note that Supervisors email contacts are provided in the List indicated above.
2. Selection
Selection is made directly by each potential iMM Supervisor.
Supervisors may decide based on application documents only or eventually get in touch directly with the References, or invite the candidates for interview.
Each Master training position is open until filled. Candidates are informed of the selection process outcome directly by potential Supervisors.
Master Course in Biomedical Research
Application Period:May 22nd – June 30th, 2023
Starting Date: October 2023
To apply please visit: www.fenix.medicina.ulisboa.pt
More info on how to apply: www.medicina.ulisboa.pt/en/biomedical-research
Introduction
We offer a multidisciplinary, transversal and integrated Master training from the bench to the bedside grounded on the four major areas of biomedical research: (i) cell biology and cancer; (ii) neurosciences; (iii) cardiovascular biology, (iv) infection and immunity.
Our methodology stimulates self-learning through teaching in small work groups, with systematic assessment of knowledge, skills and attitudes.
The students will have the opportunity to pursue their research projects within the Lisbon Academic Medical Centre environment with top scientists and a vibrant atmosphere, obtaining state-of-the-art biomedical training in our unique setting combining the Hospital, Medical School and Research Institutes, where teams of researchers are working together.
Goals
Prepare independent, critical, creative, curious, and pioneer researchers with a strong training on the application of the scientific method to pursue a doctoral degree in Biomedicine.
The strategy is based on tutorial and selective teaching in advanced technologies and methodologies and their relevance and application to a set of biomedical problems.
Skills Acquisition
Students will be stimulated to advance learning of critical skills required to enroll in a doctoral program.
Technical skills: training through research, imaging, analytical techniques, cell and molecular biology, computational biology, use of animal models, data analysis.
Transversal skills: scientific drafting, communication, bioethics, management, critical thinking, autonomy, creativity.
Career Prospects
Biomedical research in academia or industry, doctoral degree in Biomedicine.
Admission Requirements & Selection Criteria
A first cycle degree or above in any scientific area.
We welcome applications from highly qualified and motivated students of all nationalities.
Two-step evaluation process:
Step 1 - Assessment of the CV of applicant and personal statement.
Step 2 - Interview (Only selected applicants from Step 1 will be considered for Step 2).
Language & Vacancies
The course will be held in English.
Maximum 10 students will be accepted for this Master Course.
Application & Tuition Fees
The application has a 100€ fee.
All tuition fees will be fully supported by Instituto de Medicina Molecular João Lobo Antunes (iMM) scholarship.
Study Plan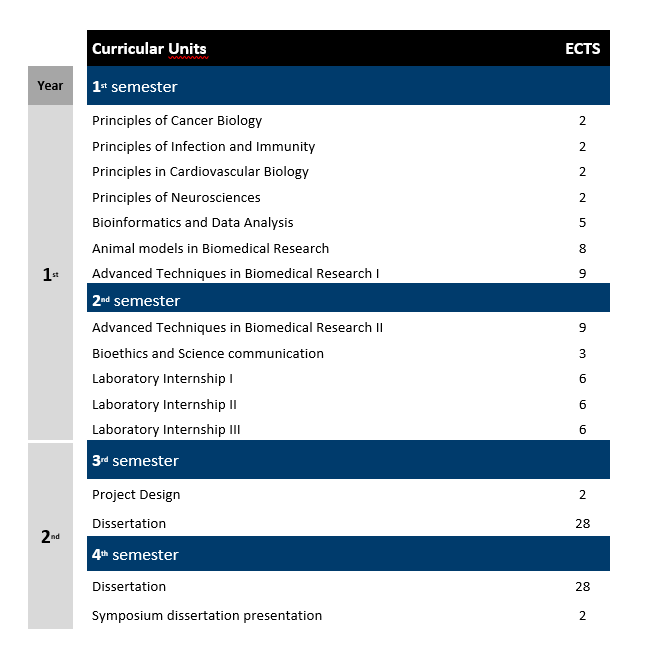 Scientific Commitee
Luís Graça, MD, PhD (Coordinator)
Edgar Gomes, PhD
Leonor Saúde, PhD
Luísa V. Lopes, PhD
Sérgio de Almeida, PhD
---
Contacts
Training Hub iMM: imm-traininghub@medicina.ulisboa.pt
IFA FMUL: avancada@medicina.ulisboa.pt