back
Director's Message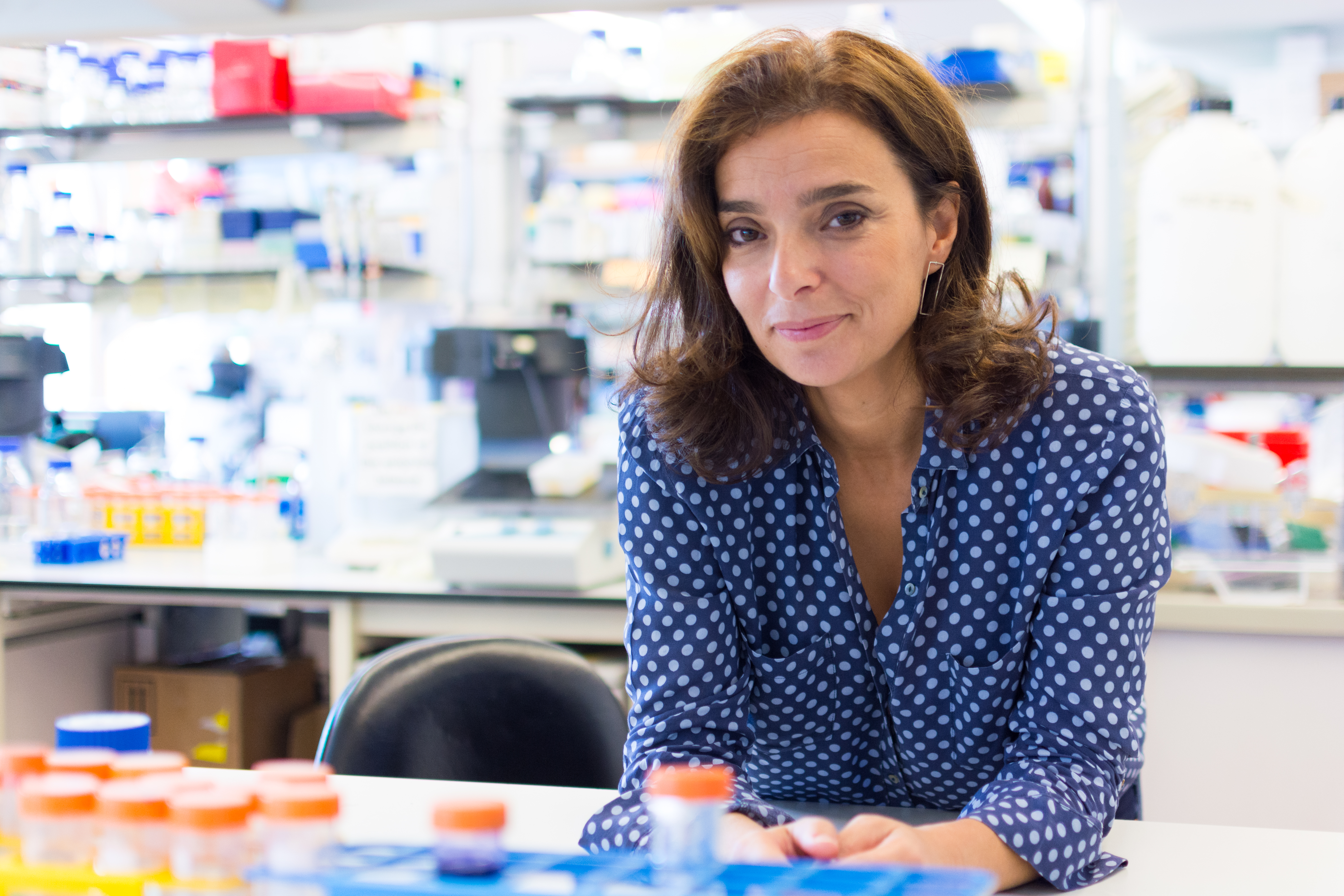 "Futuro" was the word that I picked when I was unexpectedly asked in a live national TV program for a word representing the turning of the year. While it was a totally spontaneous answer, there was a reason behind it. The entire program was dedicated to an analysis of 2018 and at one point I ended up thinking how much time we spend talking about things that obviously have a certain importance in a particular time and space but are just, as we say in Portuguese, "a espuma dos dias" (adapted from the French novel "L'Écume des jours"/ "Froth on the daydream").
For the past 4 years we have been restructuring iMM with the concept that our overarching mission is the promotion of scientific excellence, leveraged by top quality human resources that are supported by state-of-the-art infrastructures. We have a strong conviction that we are moving towards a solid and at the same time a genuine environment, excited with the world to discover. However, 2018 was the year that we – Bruno Silva-Santos and myself – felt the need to define a more ambitious strategy for iMM in the years to come.
We must aim to foster new and disruptive discoveries, based on AMBITION, one of iMM's key values. While FREEDOM will continue to be another of those key values, we must create room for bold initiatives based on interdisciplinary interactions.
Furthermore, to attract and maintain a vibrant faculty, we must invest in internationalization and enforce a recruitment, evaluation and promotion path based solely on professional excellence.
The success of such a structure also requires us, as community, to be fully committed to train and educate the most promising researchers to succeed in internationally competitive environments of academia, industry and clinical medicine. We should nurture the future leaders. Our MSc, PhD and post-doctoral programs must explore the fundamentals of living systems at all levels, while providing an intensive and demanding period of development of transferable skills. Being in the campus of and belonging to the Lisbon Medical Academic Centre (CAML), which includes the largest medical school (Faculdade de Medicina da Universidade de Lisboa - FMUL) and university hospital (Hospital Santa Maria - HSM) in the country, we must play a unique role in the scientific training of MD interns to ensure a new generation of Clinician-Scientists capable of bridging basic and clinical research.
We have no doubts that outstanding science is the motor of groundbreaking applications with societal impact. In that respect, 2018 was a very special year. After 5 years of pioneering research and development, one of iMM startups – Lymphact – was acquired in June 2018 by Gamma-Delta Therapeutics, a UK-based company. Lymphact, which was started upon a discovery made by iMM PhD student Daniel Correia in the team led by Bruno Silva-Santos, created a new technology to generate autologous and heterologous cellular immune therapies targeting chemotherapy-resistant cancer cells believed to cause disease recurrence. The iMM team will continue to work now with the UK team to develop their invention – DOT-Cells® – towards clinical application.
This process made clear the need to deploy improved streamlined processes to create a favorable environment to foster innovation and speed up the development of promising ideas to improve human life. This environment will ensure a strong interaction between our scientists and key stakeholders in industry, academia and the healthcare system towards clinical translation and commercialization, but always preserving the superior public interest. With that in mind, we have established a new Technology Transfer Office (TTO) fully dedicated to the valorization of iMM research, including the protection of intellectual property, partnering with industry, the promotion of entrepreneurship and the creation of new ventures as a key strategy to drive iMM innovation to the market. Bringing iMM innovation to clinical application will greatly benefit from a close collaboration with our founder HSM, which should reinforce our capacity to promote investigator-initiated trials in our medical research campus.
Last but not the least, while we aim to continue sharing our discoveries and enthusiasm in a range of public events and activities, we now also ambition to involve the entire society, contributing constructively to the public debate about the direction, purpose and implications of biomedical research. We are reinforcing iMM's vocation to the service of the society and the pursue of knowledge dissemination in its two distinct but complementary versions: the most visible, which captivates by the results achieved, by the discovery; with the version that precedes it, the first encounter with the question and with the curiosity that is pursued. In this context, 2018 was also very rich.
First, we have created the Societal Advisory Board (SoAB), composed by distinguished members of our society, who will provide advice on public policies that adequately promote the values of iMM to the society. Second, we have launched the first campaign to introduce the iMM to the common nonscientist citizen. Under the motto "Behind a great answer, there is always the right question" we launched a series of posters in the Lisbon area (with a special focus in the surroundings of the university campus) with questions that we think might be posed by both scientists and non-scientists. Through a QR code in each poster, curious people could access a short video where an iMM scientist provided a simple but rigorous and easy to understand answer. We strongly believe this was just the beginning, as numerous contacts and questions received from the outside will certainly drive us into future adventures.
In the turning of the millennium, Melinda and Bill Gates decided they will help eradicating malaria before they die. Almost twenty years later, and just recently, another philanthropic and younger couple decided to leave an even stronger mark. Priscilla Chan and Mark Zuckerberg have provided 3 billion US dollars for the next 10 years with the ambitious goal to "cure, prevent and manage" all diseases. While such value is incredibly impressive, it is not a huge sum for such an ambitious goal. Notably, Chan and Zuckerberg know they just want to be the spark that triggers a process – to create a long-term global movement to finance science with the support of citizens around the world – that will allow them to achieve their goal. iMM wants to be part of such movement and contribute significantly to improve human health. To that end, in 2018 we have launched João Lobo Antunes Fund where we hope to engage the Portuguese society in supporting iMM scientists to address the most difficult questions, the questions that no one has yet asked or have not been answered yet. More importantly, the questions that have the potential to produce the most relevant answers.
Maria M. Mota (Executive Director)
Vibrant Scientific Environment
The iMM – Instituto de Medicina Molecular João Lobo Antunes is a leading Portuguese private non-profit research institute that offers a vibrant scientific environment, aiming to nurture innovative ideias in basic, clinical and translational biomedical research.
Created in 2002, iMM has established itself as a leading national and internationally competitive biomedical institute. Its strategy has been defined by promotion of excellence, leveraged by high-quality human resources, increasing expenditure in infrastructures and knowledge transfer to the society. iMM is an inclusive, equal opportunity employer offering attractive conditions and benefits.
Projects co-funded by FEDER through POR Lisboa 2020 - Programa Operacional Regional de Lisboa, PORTUGAL 2020 and by Fundação para a Ciência e a Tecnologia
Projects | UIDP/BIM/50005/2020
Projects | UIDB/BIM/50005/2020
Projects | Concurso 02/SAICT/2017
Projects | Concurso 03/SAICT/2015
Projects | UID/BIM/50005/2013 - LISBOA-01-0145-FEDER-007391

Vision, Mission & Values
Our Goal:
To pave the way for groundbreaking science.
---
Our Vision:
To improve human life through excellence in biomedical research.
---
Our Mission:
To promote basic biomedical, clinical, translational and innovation research in these areas, with the aim of contributing to a better understanding of disease mechanisms, to develop new diagnostic or predictive tests as well as new therapies.
To support postgraduate scientific training of young graduates, doctors and other health professionals.
To support scientific dissemination and the provision of services abroad in the areas of specialized diagnosis, quality control and collaboration in National and International Commissions related to Health.
---
Our Values:
Generation of knowledge, excellence, individual freedom and ambition.

Organization & Structure
iMM Associate Members
Universidade de Lisboa
Faculdade de Medicina da Universidade de Lisboa
Hospital Santa Maria
Associação para a Investigação e o Desenvolvimento da Faculdade de Medicina
Fundação Oriente
---
Boards of Trustees
The Board of Trustees is composed by representatives of the Associated Members and meets at least once per year to analyze the scientific and finance report and to approve the plan of activities and budget for the next year.
---
Board of Directors
The Board of Directors is responsible for the management of the Institute according to the Plans aprooved by the Trustees. The Board of Directors is elected by the Trustees.
M. Carmo-Fonseca
MD, PhD - President
Maria M. Mota
PhD - Executive Director
Bruno Silva-Santos
PhD - Vice-President
For any topic related to iMM Board of Directors or iMM President, please contact:
- Clara Artur (Assistant to the Board of Directors)
clara.artur@medicina.ulisboa.pt
- Patricia Cucio (Assistant to the President)
pcucio@medicina.ulisboa.pt
---
Finance and Operations Director
Fausto Lopo de Carvalho
---
Scientific Advisory Council
Undertake periodic evaluations to the iMM specific programes and include international experts of scientific fields.
Carlos Caldas
MD, PhD, Chairman
Cancer Research UK Cambridge Institute
Cambridge Cancer Center, UK
Yasmine Belkaid
PhD - National Institutes of Health
Elaine Mardis
PhD - Institute for Genomic Medicine at NationWide Children's Hospital
Caetano Reis e Sousa
PhD - Francis Crick Institute
London, UK
Paul Peter Tak
MD, PhD - University of Amesterdam
Netherlands
---
Societal Advisory Board
António Barreto
Chairman
Graça Franco
Paula Martinho da Silva
Diogo Lucena
João Filipe Queiró
Henrique Leitão
Pedro Norton
Domítilia dos Santos
---
Daniela Couto
Biogeneration Ventures Fund
David Malta
Vesalius Biocapital
Isabel Ferreira
Versameb
Miguel Forte
Zelluna Immunotherapy
Pascale Redig
Janssen
Quality Policy
Support Instituto de Medicina Molecular João Lobo Antunes (iMM) Researchers to successfully pursue their missions.
Identify the needs for improvement in the technical, logistics and administrative areas in order to satisfy the needs/expectations of Customers, and promote the necessary measures to solve the difficulties that arise during the course of their activity.
To promote interaction between the scientific community of iMM and its different social partners, including academic institutions and health and industry, to foster scientific development.
Comply with requirements and improve the effectiveness of the Quality Management System.
Equity, Diversity & Inclusion Group
The Instituto de Medicina Molecular João Lobo Antunes promotes creativity, ambition and freedom as its core values. An integral part of these values is a lasting commitment to equity, diversity and inclusion, which we aim to further strengthen by directing appropriate resources and providing dedicated training to our community.
The mission of Equity, Diversity & Inclusion (EDI) group is to identify, raise awareness and implement policies on Diversity and Inclusion issues. Ultimately, our goal is to make iMM an institution where no one is disadvantaged because of their characteristics.
Who we are?
You can reach us at imm-diversity@medicina.ulisboa.pt
Find here the iMM Gender Equality Plan 2022-2025.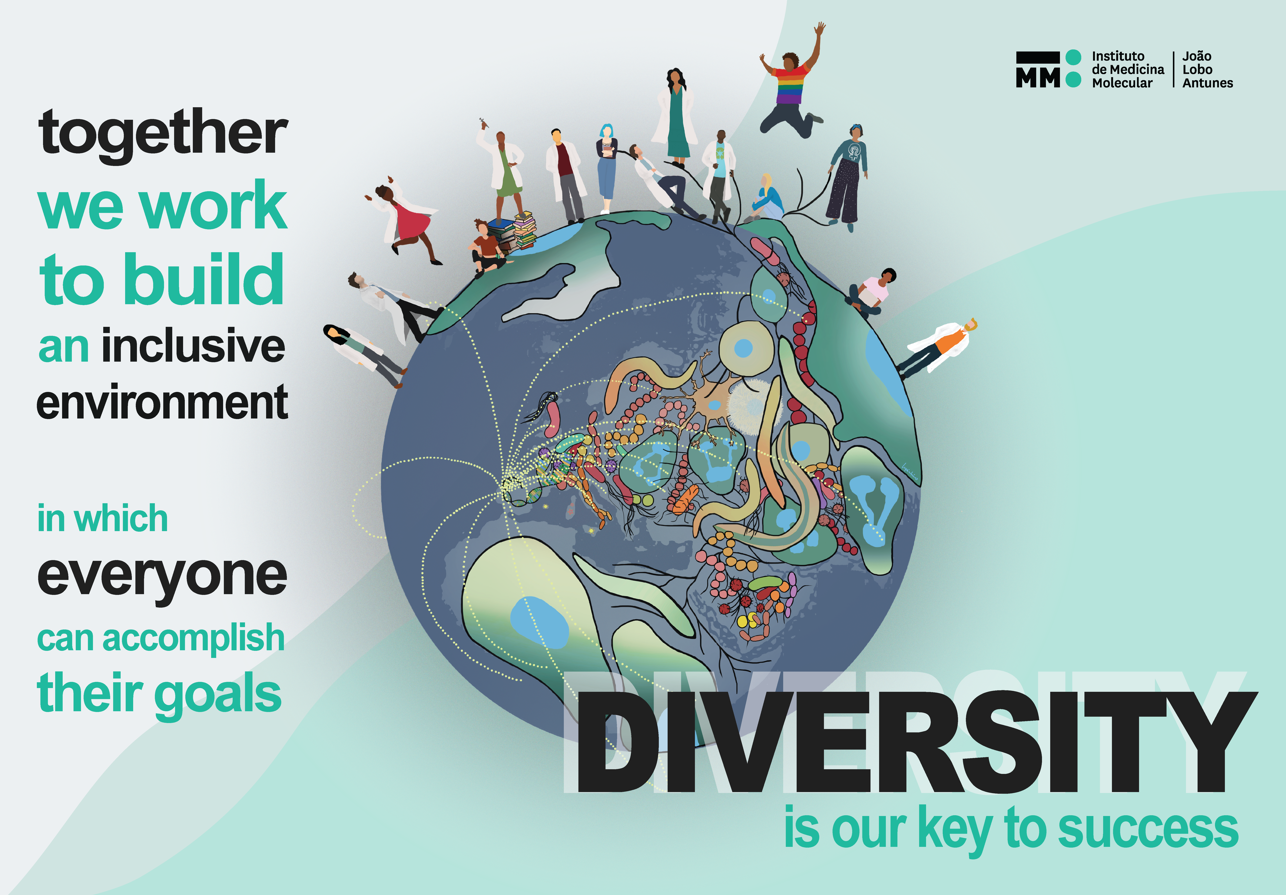 Scientific Reports & Highlights
2021
---
2020

---
2019
High quality versions are available upon request - imm-communication@medicina.ulisboa.pt
---
2018
---
2017
---
2016

---
2015
---
2014
---
2013
---
2012
---
2011
---
2010
---
2009