voltar
Oncobiologia Translacional
A metastização é responsável por cerca de 90% das mortes por cancro. Este fenómeno único e complexo está relacionado não só com as alterações genómicas na célula tumoral, mas também com a sinalização heterotípica entre as células tumorais e o hospedeiro, o que poderia explicar o organotropism metastático e como os tumores se reinventam como novos tecidos no órgão-alvo.
O nosso objetivo é contribuir para a compreensão dos mecanismos moleculares envolvidos na progressão do tumor (usando as metástases ósseas como paradigma) e para a identificação de assinaturas moleculares de organotropismo (utilizando o cancro colorectal como modelo).
Patrocínio: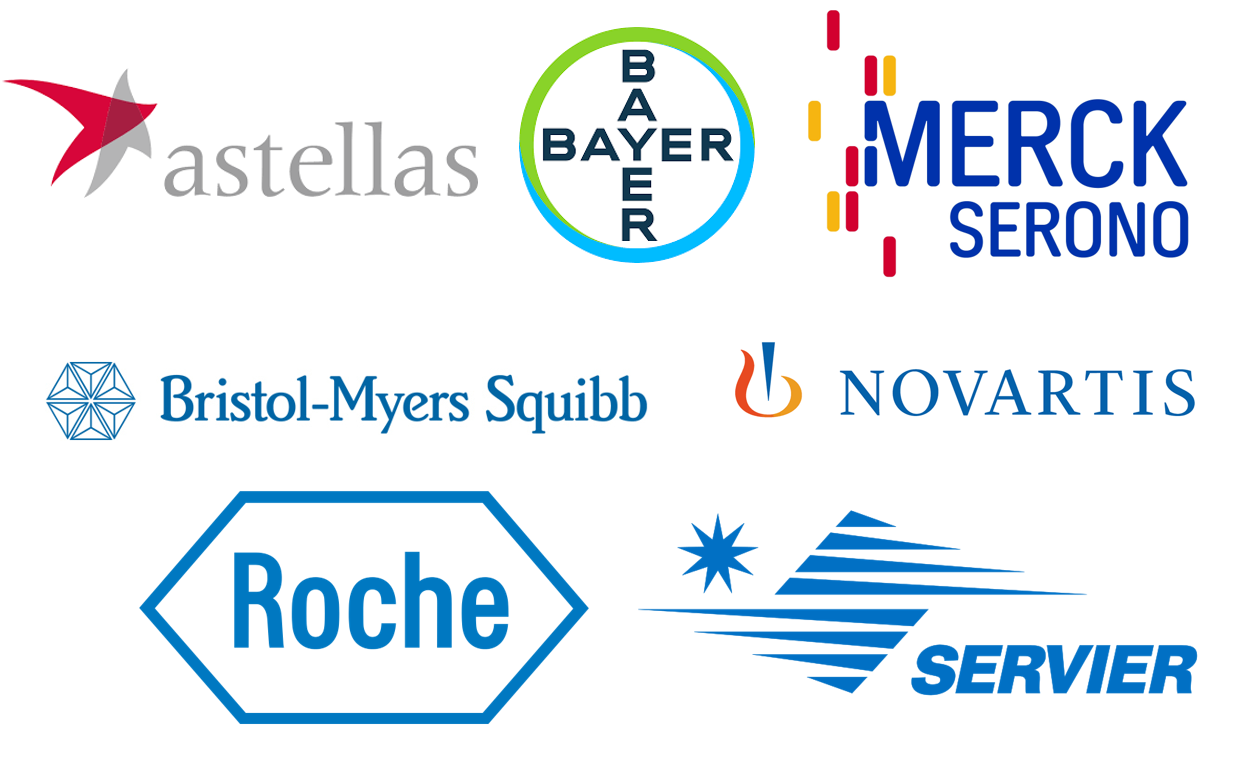 Equipa de Investigação
Áreas de Investigação
Mecanismos de invasão e progressão de tumores sólidos no osso
Mecanismos de invasão e progressão do cancro do colo-rectal no fígado
Modelação da sensibilidade de agentes antineoplásticos
Projetos de Investigação em Curso
2020/2023 MCPP- Illumina. Coordenação: Luís Costa. Agência Financiadora: Illumina.
2018/2021 Fisiopatologia e implicações clínicas da mutação RANK c.1386C>T (R450W) em doentes com cancro da mama. Coordenação: Sandra Casimiro. Agência Financiadora: Fundação para a Ciência e para a Tecnologia.
2018/2021 Inervação patológica em metástases ósseas: OSTEOCLASTOS, o que estão a fazer? Coordenação: Sandra Casimiro. Agência Financiadora: Fundação para a Ciência e para a Tecnologia.
Prémios
2014/2016 Oncology Research Award, Portuguese Foundation Against Cancer / Terry Fox Foundation
Publicações Selecionadas
Coleman RE, Croucher PI, Padhani AR, Clézardin P, Chow E, Fallon M, Guise T, Colangeli S, Capanna R, Costa L (2020). Bone metastases. Nature Reviews Disease Primers 6(1):83. Review.
Gomes I, de Almeida BP, Dâmaso S, Mansinho A, Correia I, Henriques S, Cruz-Duarte R, Vilhais G, Félix P, Alves P, Corredeira P, Barbosa-Morais N, Costa L, Casimiro S (2020). Expression of receptor activator of NFkB (RANK) drives stemness and resistance to therapy in ER+HER2- breast cancer. Oncotarget 11 (19):1714-1728.
Ferreira AR, Ribeiro J, Miranda A, Mayer A, Passos-Coelho JL, Brito M, Fernandes J, Gouveia J, Costa L, Vaz-Luis I (2019). Effectiveness of Adjuvant Ovarian Function Suppression in Premenopausal Women With Early Breast Cancer: A Multicenter Cohort Study. Clinical Breast Cancer 19(5):e654-e667.
Willumsen N, Ali SM, Leitzel K, Drabick JJ, Yee N, Polimera HV, Nagabhairu V, Krecko L, Ali A, Maddukuri A, Moku P, Ali A, Poulose J, Menon H, Pancholy N, Costa L, Karsdal MA, Lipton A (2019). Collagen fragments quantified in serum as measures of desmoplasia associate with survival outcome in patients with advanced pancreatic cancer. Scientific Reports 9(1):19761.
Costa L, Ferreira AR (2017). Adjuvant zoledronic acid to treat breast cancer: not for all. Lancet Oncology 18(11):1437-1439.
Body JJ, Casimiro s, Costa L Targeting bone metastases in prostate cancer: improving clinical outcome. Nature Reviews Urology, 12: 340–356. 2015. doi:10.1038/nrurol.2015.90
Ferreira A, Alho I, Casimiro S, Costa L. Bone remodeling markers and bone metastases: From cancer research to clinical implications. Bonekey Rep. 2015 Apr 22;4:668. doi: 10.1038/bonekey.2015.35. eCollection 2015. Review.
Costa L. Bisphosphonates in adjuvant setting for breast cancer: a review of the meta-analysis of bisphosphonates' effects on breast cancer recurrence presented in December 2013 at San Antonio Breast Conference. Curr Opin Support Palliat Care. 2014 Dec;8(4):414-9. doi: 10.1097/SPC.0000000000000101.
Casimiro S, Fernandes A, Oliveira AG, Franco M, Pires R, Peres M, Matias M, Tato-Costa J, Guerra N, Ramos M, Cruz J, Costa L. Metadherin expression and lung relapse in patients with colorectal carcinoma. Clin Exp Metastasis. 2014 Aug;31(6):689-96. doi: 10.1007/s10585-014-9659-0. Epub 2014 Jun 20.
Costa L, Casimiro S, Gupta S, Knapp S, Radhakrishna Pillai M, Toi M, Badwe R, Carmo-Fonseca M, and Rakesh Kumar (2014) The global cancer genomics consortium's third anual symposium: from oncogenomics to cancer care. Genes & Cancer, 5(3-4): 64-70.
Fernandes C, Monteiro S, Mendes P, Gano L, Marques F, Casimiro S, Costa L, Correia, JGD, Santos, I Biological assessment of novel bisphosphonate-containing 99mTc/Re-organometallic complexes. Journal of Organometallic Chemistry. 2014 760:197-204.
Casimiro S, Alho I, Bettencourt M., Pires R, Lipton A, Costa L RANKL enhances the effect of an antagonist of inhibitor of apoptosis proteins (cIAPs) in RANK-positive breast cancer cells. Journal of Bone Oncology. 2(3): 116-122. 2013
Horvath A, Pakala SB, Mudvari P, Reddy SDN, Ohshiro K, Casimiro S, Pires R, 5. Fuqua SAW, Polyak K, Costa L, Toi M, Nair S, Sukumar S, Kumar R Novel Insights into Breast Cancer Genetic Variance through RNA Sequencing. Scientific Reports, 3:2256. 2013 Epub 2013 Jul 25
Costa L. Which bisphosphonate to treat bone metastases? Lancet Oncol. 2014 Jan;15(1):15-6. doi: 10.1016/S1470-2045(13)70583-7. Epub 2013 Dec 11.
Alho I, Costa L, Bicho M, Coelho C. Low molecular weight protein tyrosine phosphatase isoforms regulate breast cancer cells migration through a RhoA dependent mechanism. PLoS One. 2013 Sep 27;8(9):e76307. doi: 10.1371/journal.pone.0076307. eCollection 2013.
Casimiro S, Mohammad KS, Pires R, Tato-Costa J, Alho I, Teixeira R, Carvalho A, Ribeiro S, Lipton A, Guise TA, Costa L. RANKL/RANK/MMP-1 molecular triad contributes to the metastatic phenotype of breast and prostate cancer cells invitro. PLoS One. 2013 May 16;8(5):e63153. doi: 10.1371/journal.pone.0063153. Print 2013
Alho I, Costa L, Bicho M, Coelho C. Characterization of low molecular weight protein tyrosine phosphatase isoforms in human breast cancer epithelial cell lines. Anticancer Res. 2013 May;33(5):1983-7.
Suresh B. Pakala, Suresh K. Rayala, Rui-An Wang, Kazufumi Ohshiro, Prakriti Mudvari, Sirigiri Divijendra Natha Reddy, Yi Zheng, Ricardo Pires, Sandra Casimiro, M. Radhakrishna Pillai, Luis Costa, and Rakesh Kumar MTA1 Promotes STAT3 Transcription and Pulmonary Metastasis in Breast Cancer. Cancer Research, 73(12):3761-3770 2013, Epub 2013 Apr 11.
Alho I, Costa L, Bicho M, Coelho C. The role of low-molecular-weight protein tyrosine phosphatase (LMW-PTP ACP1) in oncogenesis. Tumour Biol. 2013 Aug;34(4):1979-89. doi: 10.1007/s13277-013-0784-1. Epub 2013 Apr 14. Review.
Fernandes I, Pacheco TR, Costa A, Santos AC, Fernandes AR, Santos M, Oliveira AG, Casimiro S, Quintela A, Fernandes A, Ramos M, Costa L. Prognostic significance of AKT/mTOR signaling in advanced neuroendocrine tumors treated with somatostatin analogs. Onco Targets Ther. 2012;5:409-16. doi: 10.2147/OTT.S36330. Epub 2012 Nov 28.
Global Cancer Genomics Consortium. The Global Cancer Genomics Consortium: interfacing genomics and cancer medicine. Cancer Res. 2012 Aug 1;72(15):3720-4. Epub 2012 May 24.
Clemons M, Russell K, Costa L, Addison CL. Adjuvant bisphosphonate treatment for breast cancer: why did something so elegant become so complicated? Breast Cancer Res Treat. 2012 Jul;134(2):453-7. doi: 10.1007/s10549-012-2077-6. Epub 2012 May 5. Review.
Lipton A, Costa L, Coleman RE. Bone turnover markers: tools for prognosis and monitoring response to bisphosphonates? Breast Dis. 2011;33(2):59-69. doi: 10.3233/BD-2010-0327.
Hadji P, Aapro M, Costa L, Gnant M. Antiresorptive treatment options and bone health in cancer patients-safety profiles and clinical considerations. Cancer Treat Rev. 2012 Oct;38(6):815-24. doi: 10.1016/j.ctrv.2012.03.002. Epub 2012 Apr 5. Review.
Casimiro S, Luis I, Fernandes A, Pires R, Pinto A, Gouveia AG, Francisco AF, Portela J, Correia L, Costa L. Analysis of a bone metastasis gene expression signature in patients with bone metastasis from solid tumors. Clin Exp Metastasis. 2012 Feb;29(2):155-64. doi: 10.1007/s10585-011-9438-0. Epub 2011 Nov 26.
David Henry, Luis Costa, Francois Goldwasser, Vera Hirsh, Vania Hungria, Jana Prausova, Giorgio Vittorio Scagliotti, Harm Sleeboom, Andrew Spencer, Saroj Vadhan-Raj, Roger von Moos, Wolfgang Willenbacher, Penella J Woll, Jianming Wang, Qi Jiang, Susie Jun, Roger Dansey, Howard Yeh." A Randomized, Double-blind Study of Denosumab Versus Zoledronic Acid in the Treatment of Bone Metastases in Patients With Advanced Cancer (Excluding Breast and Prostate Cancer) or Multiple Myeloma" J Clin Oncol (2011), Volume 29, nº 9, pages: 1125-1132
Ha NH, Nair VS, Reddy DN, Mudvari P, Ohshiro K, Ghanta KS, Pakala SB, Li DQ, Costa L, Lipton A, Badwe RA, Fuqua S, Wallon M, Prendergast GC, Kumar R.Lactoferrin-endothelin-1 axis contributes to the development and invasiveness of triple-negative breast cancer phenotypes. Cancer Res. 2011 Dec 1;71(23):7259-69. doi: 10.1158/0008-5472.CAN-11-1143. Epub 2011 Oct 17
Coleman R, Costa L, Saad F, Cook R, Hadji P, Terpos E, Garnero P, Brown J, Body JJ, Smith M, Lee KA, Major P, Dimopoulos M, Lipton A. Consensus on the utility of bone markers in the malignant bone disease setting. Crit Rev Oncol Hematol. 2011 Dec;80(3):411-32. doi: 10.1016/j.critrevonc.2011.02.005. Epub 2011 Mar 15. Review.
Costa L, Harper P, Coleman RE, Lipton A. Anticancer evidence for zoledronic acid across the cancer continuum. Crit Rev Oncol Hematol. 2011 Feb;77 Suppl 1:S31-7. doi: 10.1016/S1040-8428(11)70006-3. Review.
group leader :
---
Luís Costa
Investigador Principal iMM desde 2007
Diretor do Serviço de Oncologia, CHLN–Hospital de Santa Maria
Professor Associado, FMUL
MD (1985) e Doutoramento (2002) em metástases no osso, FMUL