Table of Contents
Quantitative Light Microscopy in Living Cells
• Coordinators: José Rino (IMM, Lisboa)

&nbsp &nbsp &nbsp &nbsp &nbsp &nbsp &nbsp &nbsp &nbsp &nbsp &nbsp &nbsp &nbsp Tom Kirchhausen (HMS - USA)


• Date: April 14th - 18th, 2010 (9:00 to 18:30)

• Location: IMM - Instituto de Medicina Molecular, Lisboa

• Deadline for registration: 31 March, 2010
Description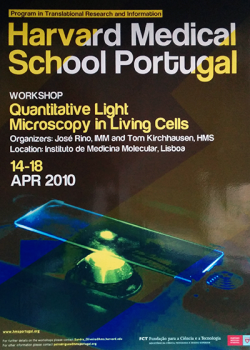 This five-day intensive workshop aims to provide a practical guide for quantitative live cell imaging in research, by bringing together cell biologists and microscopy experts in a relaxed environment to review the most relevant issues, explore advanced techniques and discuss the opportunities offered by the quantitative observation of cells in real-time while successfully keeping them alive. This advanced imaging workshop is aimed at students, doctoral fellows, post-doctoral fellows, medical doctors and faculty with previous working experience in using fluorescence microscopy. The course will combine lectures with daily hands-on laboratories followed by group discussions.
The course is open and free of charge to all members of the Harvard Medical School - Portugal Program community (students, PhD fellows and Doctors, Faculty) and also available for members not directly associated with the Program who are interested in the topic. The experimental component of the course is limited to 12 participants.
Faculty for the lectures includes Maria Carmo-Fonseca (IMM) and Tom Kirchhausen (HMS). Faculty for lectures and for the development of course components and laboratories include José Rino (IMM), Ghislain Cabal (IMM), Gabriel Martins (FCUL), Nuno Moreno (IGC) and Soren Prag (IMM). Technical support provided by António Temudo (IMM). To ensure maximum participation and discussion, each laboratory exercise will be performed with small groups of 2 - 3 students. All participants will receive a certificate of participation.
The Systems
A total of 5 microcopes will be used, equipped with cage or chamber incubators for temperature and CO2 control, 2 spinning disc confocal systems with motorized and piezo-driven stages, 2 point-scanning confocal units for Fluorescence Recovery After Photobleaching (FRAP) and Förster Resonance Energy Transfer (FRET) and 1 sensitive CCD fluorescence widefield illumination fluorescence motorized system.
The Program
Download the detailed program: workshop_program.pdf
Program Outline: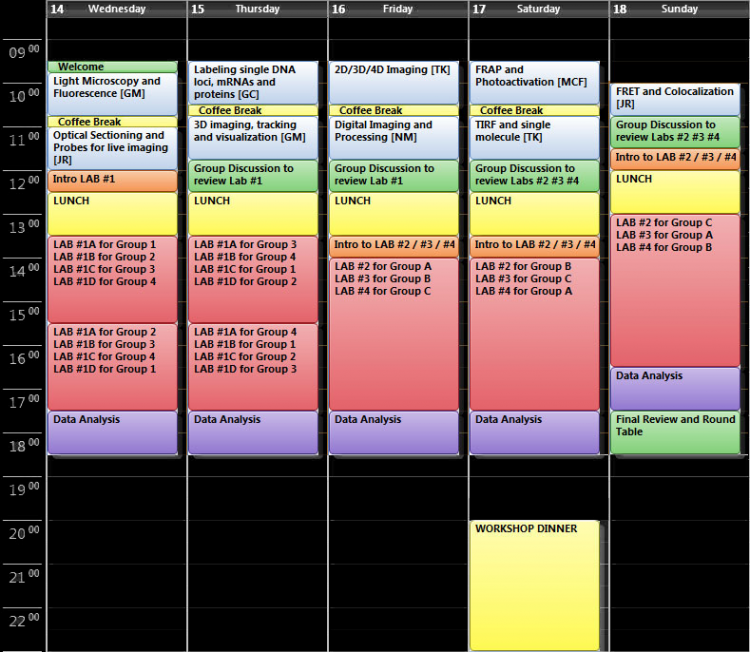 Hands-on labs:

Registration
Registrations are already closed. Thank you for your interest.
Further Information
For further course information please contact José Rino at joserino@fm.ul.pt
For logistical information please contact HMS Portugal Program Manager Sandra Oliveira at Sandra_Oliveira@hms.harvard.edu
* Zeiss Cell Observer SD system supplied by