This is an old revision of the document!
---
Table of Contents

Location: No longer available (moved to CEDOC)
Manufacturer: Andor Technology
Model: Revolution XD
Year: 2009
SN: PU-0171
&nbsp
&nbsp
&nbsp
&nbsp
&nbsp
→ Andor Revolution Booking
→ Andor Revolution Usage Statistics
→ Andor Revolution FAQ &nbsp
System overview
The Andor Revolution spinning disk confocal microscope is a fast imaging system which provides a trade-off between confocality, resolution and speed. It is an inverted microscope ideal for live cell applications which require fast acquisition speeds rather than high resolution images. The scanning unit achieves confocality by directing light through a spinning disk with many small pinholes. Images are then acquired with a sensitive EMCCD which allows for very small exposure times but is limited in resolution to 512×512 pixels. The stage is motorized and furthermore equipped with a piezo for Z displacement so fast 4D imaging is possible in multiple stage positions. The system is also equipped with a large size incubator for temperature control and a small stage incubator for CO2 supply. A UV laser is attached to the back port of the microscope for spot laser ablation. With this system you can perform optical sectioning of fluorescent samples which are too thick for a widefield system such as the Zeiss Axiovert 200M. Even though its resolution is not as high as a point-scanning confocal system such as the Zeiss LSM 510 META or Zeiss LSM 710, it is much faster than these two systems. If you need to use an upright microscope, check the Zeiss LSM 5 Live fast confocal system instead. If your personal computer cannot handle all the data you collected, check out the Big Guy.
Interactive Flash Tutorial: Learn how to synchronize spinning disk rotation with camera exposure times
System components
LASERs
| Laser Unit | Wavelength | Maximum Power | Current Status |
| --- | --- | --- | --- |
| Diode CW 405 | 405 nm | 50 mW | ok |
| OPSL CW 488 | 488 nm | 75 mW | ok |
| DPSS 561 | 561 nm | 75 mW | ok |
| DPSS 640 | 640 nm | 40 mW | ok |
Objectives
Emission Filtersets
| Setting | Transmission |
| --- | --- |
| 0: QUAD | 420-460 + 511-531 + 590-624 + 678-722 nm |
| 1: 685 | 665-705 nm |
| 2: 605 | 579-631 nm |
| 3: 525 | 500-550 nm |
| 4: 447 | 417-477 nm |
| 5: Block | No Transmission |
| 6: BF | Empty - Full Transmission |
| 7: analyzer | DIC Polarizer |
| 8: 568LP | 581-1282 nm |
| 9: 488LP | 500-1100 nm |
Microscope Turn On Procedure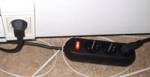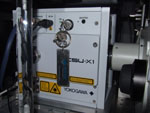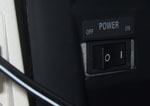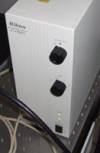 Turn on the computer

Wait 2 min to allow for system components detection

Start the iQ software

Place your sample on the stage/piezo holder

Turn the Prior piezo control on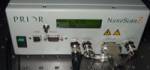 Microscope Turn Off Procedure
Turn off the piezo control

Remove your sample from the stage/piezo holder

Exit the iQ software

Switch off the computer

Turn off all system components (no particular order)
TOP 5 Users
2012
2011
2010
2009
Elsa Abranches (UBD)
170.5h
Lara Carvalho (UMO)
376h
Lara Carvalho (UMO)
399.5h
Dulce Azevedo (UMO)
255h
Lara Carvalho (UMO)
133h
Soren Prag (UMO)
372h
Dulce Azevedo (UMO)
387.5h
João Cordeiro (UMO)
199.5h
Marco Antunes (UMO)
98.5h
Marco Antunes (UMO)
170.5h
João Cordeiro (UMO)
358h
Ghislain Cabal (UMA)
111h
Carolina Moreira (UMO)
76h
Célia Carvalho (UBCe)
152h
Soren Prag (UMO)
272.5h
Isabel Campos (UMO)
101.5h
Soren Prag (UMO)
60.5h
João Cordeiro (UMO)
147h
Marco Antunes (UMO)
256h
Marco Antunes (UMO)
100h
---
andor_revolution.1460849873.txt.gz · Last modified: 2016/04/17 01:37 by bioimaging