back
Marie Skłodowska Curie Actions Postdoctoral Fellowships 2023
Call information
Marie Skłodowska Curie Actions Postdoctoral Fellowships 2023 (MSCA-PF 2023) is a bottom-up programme within the European Commission's Horizon Europe framework program. It is open to all domains of research and innovation and encourages international  cooperation, while implementing excellent research projects across all sectors of research.
---
Types of Postdoctoral Fellowships
1. European Postdoctoral Fellowship
12 to 24 months fellowship open to researchers from any nationality either coming to Europe or moving within Europe.
2. Global Postdoctoral Fellowship
12 to 24 months secondment to a third country (countries that are neither EU Member State or Associated Country) and a  mandatory 12-month return period to a European host, being open to European nationals or long-term residents.
Can start the project in the EU country (max 3 months) before moving to the Third Country.
---
Opening date: April 12, 2023
Application deadline: September 13, 2023 (17:00 Brussels time)

Who can apply
Researchers of any nationality.
The applicant must have been awarded

PhD max 8 years before the call deadline

(deductable time i.e. parental leave, career breaks, work outside research, research in a Third country).
The applicant cannot have resided or carried out their main activity in the country of the beneficiary (for European Postdoctoral Fellowships), or the host organisation for the outgoing phase (for Global Postdoctoral Fellowships) for more than 12 months in the 36 months immediately before the call deadline.
The fellow must have a Principal Investigator willing to be their host at iMM.
A fellow can only submit one proposal per call. A principal investigator (supervisor) can apply for several fellowships with different fellows.

Why join iMM
The Instituto de Medicina Molecular João Lobo Antunes (iMM) is a leading Portuguese private non-profit research institute that nurtures innovative ideas in basic, clinical and translational Biomedical Research.
iMM is located in sunny, cosmopolitan and international Lisbon (Portugal). It comprises 32 research groups in 4 Research Areas: Molecular and Cellular Biology; Development, Ageing and Cancer; Infection and Immunity; Neurosciences and Behavior.
Our aim is to contribute to a better understanding of disease mechanisms, developing novel predictive tests, improving diagnostics tools and developing new therapeutic approaches.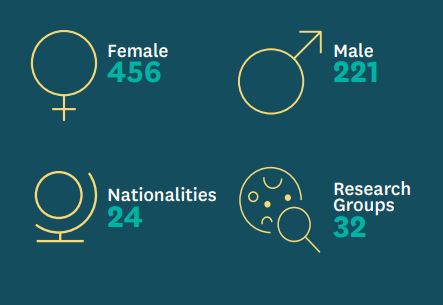 iMM is centered on cutting-edge laboratories working in a broad range of fields that encompass multidisciplinary approaches ranging from basic to clinical and translational research.
Our research is supported by technical and administrative infrastructures that combine excellent instrumentation and dedicated staff.
To find out more about iMM check our 2022 Highlights.
Our goal is to pave the way for groundbreaking discoveries.
Translational potential of iMM discoveries is further strengthened through the Lisbon Academic Medical Center (CAML - Centro Académico de Medicina de Lisboa), a privileged strategic partnership between the iMM, the Lisbon School of Medicine (Faculdade de Medicina da Universidade de Lisboa) and North Lisbon University Hospital Center - Santa Maria Hospital (Centro Hospitalar Universitário Lisboa Norte).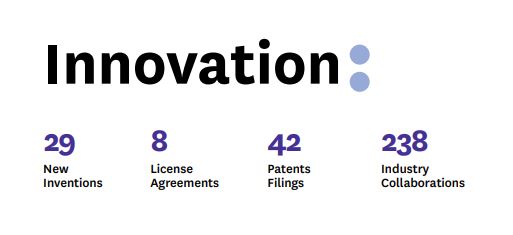 iMM has been recurrently recognised as an Excellent Research and Development Unit by the National Foundation for Science and Technology (Fundação para a Ciência e Tecnologia, FCT).
iMM was the only Portuguese Institution in the Top-70 Research Organisations in terms of EU Framework Programme Horizon 2020 funding, reaching a total funding of €33,57 millions of €. iMM researchers have secured a total funding of 78,95 millions of € in international and national competitive funding schemes between 2014 to 2020.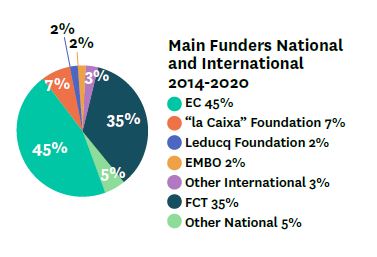 iMM's overall strategy has been defined by promotion of excellence, thus attracting world-class ingenious scientists with an ambitious research portfolio and providing them the state-of-the-art technology and flexible resources to maximize creativity towards discoveries without boundaries.
iMM's scientific excellence is also fully supported by supporting Working Groups - Open Science and Equality, Diversity & Inclusion – and by administrative services composed by: Pre-Award Office, Technology Transfer Office, Training Hub Office, Communication Office, Human Resources Office and Finance and Operations Office.

Contacts
The researchers interested in applying to MSCA-Postdoctoral Fellowships 2023 with iMM as Host Organization must contact the Principal Investigator where they would like to develop their MSCA-PF project.
Here you can find all the iMM laboratories.
Eligible applicants will get one-on-one personalized application support from iMM Pre-Award Office, including support in breaking down detailed parts of the award criteria, submission process, how to set up the proposal, hands-on writing tips and feedback to the proposal before submission.
Don't hesitate to contact iMM Pre-Award if you have any questions: imm-funding@medicina.ulisboa.pt.