Table of Contents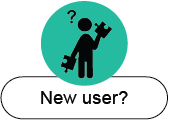 How to access our resources...
If you want to use a cell analyzer:
If you want to use a cell sorter:
Please

contact us

(

47224) to get access to the cell sorters online booking.

For a first time usage, we would like to schedule a small meeting, for you to explain us the proper details of your experiment. This is truly important to define the sorting best setup and conditions for your particular experiment.
If you want to analyze your results:
We have FlowJo, FACSDiva, and ModFit LT software on our MacFlow and PC workstations. You can book the computers online, just like the rest of our instruments. We are happy to teach you how to draw gates, analyse your data, and create figures in FlowJo!
Important Information
newuser.txt · Last modified: 2021/11/25 15:32 by flowcytometry