Table of Contents
Head of Unit
José Rino, PhD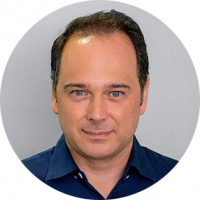 Full Name: José Miguel Rino Henriques
Publishing Name: José Rino
ResearcherID: I-2990-2013
Date of Birth: 12th September 1976
Nationality: Portuguese
E-mail address: joserino@medicina.ulisboa.pt
Research History
José Rino graduated in Technological Physics Engineering from Instituto Superior Técnico, Technical University of Lisbon in 1999 and joined the lab of Prof. Maria Carmo-Fonseca at the Faculty of Medicine, University of Lisbon in the same year for his PhD, which was focused on the study of dynamics and interactions of nuclear proteins with quantitative photobleaching microscopy.
During his PhD, José Rino participated in an Integrated Project funded by the European Union 6th Framework Programme with the goal of generating and applying novel advanced technology for non-invasive imaging of biomolecular function in living systems. He also collaborated and trained in advanced microscopy techniques at the labs of Dr. Elisa Izaurralde and Dr. Jan Ellenberg at the European Molecular Biology Laboratory (Germany) and of Prof. Theodorus Gadella at the University of Amsterdam (The Netherlands). José completed his PhD in Biophysics in 2007 from the Faculty of Sciences, University of Lisbon, having co-authored 4 articles in international peer review journals as well as a book chapter.
José's postdoctoral research, carried out at the Instituto de Medicina Molecular (IMM) in the lab of Prof. Carmo-Fonseca, focused on applying quantitative microscopy methods to study mRNA biogenesis and resulted in 5 published articles. In 2009, José was hired under the Ciência 2008 program by the IMM as Head of the Bioimaging Unit, the core microscope facility of the Institute. Between 2013 and 2016 José was also responsible for the Optical Imaging and Microscopy Platform of the Champalimaud Centre for the Unknown, Lisbon. In 2016 José was also appointed by the IMM as Head of the Flow Cytometry Facility, being responsible for both the Bioimaging and Flow Cytometry Facilities until 2020.
José is currently Head of the Bioimaging Unit at the Instituto de Medicina Molecular João Lobo Antunes. He is the author of more than 30 original peer reviewed papers in international journals and has given more than 50 invited oral presentations. He has also organized several courses on Microscopy and Flow Cytometry.
Publications
---